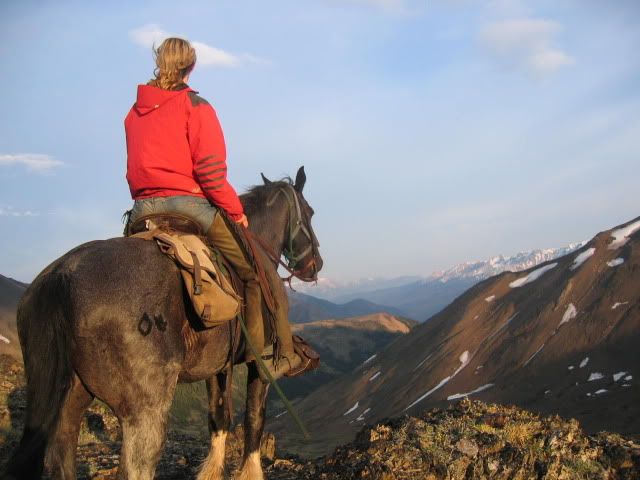 "The scenic drive from Vancouver to the Chilcotin Holidays ranch boded well, with tantalizing glimpses of mountain glaciers, vast green forests and ice blue lakes.
"We rode straight out to the camp at Spruce Lake, an idyllic setting that was exactly how I'd pictured the Canadian wilderness – a log cabin with snow capped mountains in the background, and fir trees down to the lake in front.
"I was privileged to have one of Chilcotin's most experienced grizzly viewing guides for my wildlife tour, and Russell found us bears on the first ride out – a mother with two cubs. We watched as they grazed up and down the alpine meadow, little troubled by our presence. In fact they browsed so close we had to remind them we were there! Seeing this Grizzly family was magical, a moving experience – and we were lucky enough to view them again the next day, for another peaceful grazing and photo opportunity.

"The Grizzly highlight came in the last viewing evening of my trip, on the night we stayed at an outer camp. We'd been for yet another fantastic ride with stunning alpine views, crossing shale mountain slopes and snow packs, and tracking the prints of a good sized bear up the valley and back. Close to camp on our return we suddenly came across the bear as he rubbed on a tree, making the branches sway violently. At that moment I learned what it means to have your eyes pop out of your head!


"We were able to follow him as he moved from tree to tree to rub, and he did this three or four times before disappearing into the trees. On horseback, the bear was about the same height as us on all fours – an unforgettable sight!

"The Chilcotin horses were fabulous, they were unperturbed by the closeness of the bears and would go anywhere with confidence. They were fit and energetic yet careful and good natured. My own riding confidence increased dramatically in the short time I was there, and riders of any ability would have a great trip. The trail rides alone are a worthwhile experience if it's not grizzly viewing season! There is so much wildlife to admire in this area; we also saw mule deer, a black bear, mountain goats, wolf tracks, several bald eagles, and the charismatic loon.

"In addition to the incredible wildlife and scenery, my trip was made so memorable by the extensive knowledge, hard work and great company of guide Russell and assistant guide, Nicole. I was woken early to hot tea and a saddled horse, we'd then ride out and return mid-morning for a cooked breakfast, perhaps followed by an afternoon nap or swim in the lake, before early dinner and out for the evening ride. On return it was time for the campfire and marshmallow toasting – a pretty good life!

"This was an amazing experience, and I can't thank Russell and Nicole enough. I've come away from Chilcotin Holidays with good friends and some incredible memories from my wildlife tour."

J. Ritchie, New Zealand.